The sports and athletic insole market is projected to display a healthy 7.7% CAGR for projection period from 2020 to 2030. While the rise of the older population will generate key opportunities for growth, a high turnover of sport insole inventory will limit profits and growth for manufacturers. To optimize market opportunities, vendors are more likely to focus on the growth prospects of fast-growing segments, while consolidating their positions in others.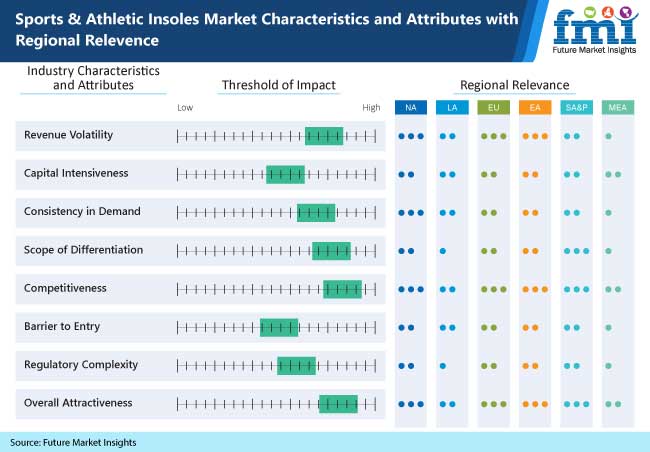 "A growing number of people have begun taking part in sports or physical activities like walking, running, jogging, and hiking to improve fitness and productivity. Supportive insoles can help in minimizing injuries, correct alignment of joints, limbs, ligaments, and muscle in addition to improving body part functions," says the FMI study.
Request a report sample to gain comprehensive market insights at https://www.futuremarketinsights.com/reports/sample/rep-gb-12902
Sports and Athletic Insole Market – Important Takeaways
Sports and Athletic Insole Market – Driving Factors
Sports and Athletic Insole Market – Leading Constraints
Higher costs associated with sports and athletic insole in comparison to conventional products is a key obstacle to adoption.
Potential side effects of foot pain over long-duration use is a major challenge hurting the prospects of sales.
For any Queries Linked with the Report, Ask an Analyst@ https://www.futuremarketinsights.com/ask-question/rep-gb-12902
Expected Impact on Market by Coronavirus Outbreak
The global pandemic of the covid-19 virus has moderately impacted operations for players in the sports and athletic insole market. Global concerns over viral transmission, and lockdown restrictions on outdoor activities following the outbreak has hurt the demand for sports and athletic insoles.
Further, supply chains have been impacted during the pandemic, and the shortage of labor during the crisis period, are key factors that are likely to impact the market in the short term. However, higher levels
of health consciousness among consumers during the has boosted demand for fitness solutions, which will aid a faster recovery and long-term growth in the industry.
Competition Landscape
Some of the major players participating in the sports and athletic insole market are Aetrex Worldwide, Inc., Footbalance System Ltd., FAES FARMA, Gravitus, Protalus, Currex GmbH, ImplusFootcare LLC., Powerstep, Superfeet Worldwide, Inc., Sorbothane Incorporated. among others
Players in the sports and athletic insole market are largely involved in product development and launch strategies in addition to strategic collaborations for geographical expansion to bolster their positions in a rapidly growing market.
For instance, Plantiga Technologies has announced its partnership with Original Footwear, with the aim of including Plantiga's sensor infused insoles to Original Footwear's product portfolio. EA has partnered with Adidas and Google for the development and launch of a smart shoe insole, which can be used for rewards in Fifa Mobile. Porcher Sport has announced the launch of thermoplastic insoles aimed for customized footwear for wider scope of applications in varying shoe designs.
Download Complete TOC Of this Report @ https://www.futuremarketinsights.com/toc/rep-gb-12902
More on the Report
FMI provides in-depth insights on the sports and athletic insole market. The market is segmented in terms of base material (polymer, plastic, rubber, carbon fiber, and silicone), consumer orientation (men, women, and kids), and sales channel (direct and indirect sales), across six regions (North America, Latin America, Europe, Asia Pacific, Oceania, and Middle East & Africa).
Table Of Content
1. Executive Summary
1.1. Global Market Outlook
1.2. Summary of Key Statistics
1.3. Summary of Key Findings
1.4. Product Evolution Analysis
1.5. FMI Analysis and Recommendations
2.1. Market Taxonomy
2.2. Market Definition
3. The Massive Impact of the Crisis
3.1. An economic and labor market shock impacting the production, consumption and investments
3.2. Impact of declining global growth on unemployment based on three scenarios, world and income groups
3.3. Countries in action: How have countries been responding?
3.4. The Economic Impact of the COVID-19 Outbreak on Developing Asia
3.5. Impact of COVID-19 on the Gross Domestic Product of Selected Economies
3.6. Current Economic Projection – GDP/GVA and probable impact
4. The 2020 Market Size of Sports and Athletic Insole
4.1. Previous forecast
4.2. Quarter by Quarter forecast, 2020
4.3. Projected Recovery Quarter
5.1. Key Trends Impacting the Market
5.1.1. Growing demand for environmentally friendly raw material
5.1.2. Shock Absorb Gel Insoles Gaining Popularity
5.1.3. Availability of Innovative Sports and Athletic Insoles
5.1.4. Insoles with anti-fatigue technology
5.1.5. "3D" is New Production Perspective
5.1.6. Bluetooth Compatibility Insoles – Connected to Smartphones
5.1.7. Heating Insoles -Foot Warmer
5.2. Product Development Trends
The post Sports and Athletic Insole Market Players Eye Custom and 3-D Printed Products for Performance Optimization, Says Future Market Insights appeared first on Industry News Analsis.
Why pay for news and opinions when you can get them for free?
       Subscribe for free now!
---
By submitting this form, you are consenting to receive marketing emails from: . You can revoke your consent to receive emails at any time by using the SafeUnsubscribe® link, found at the bottom of every email.
Emails are serviced by Constant Contact